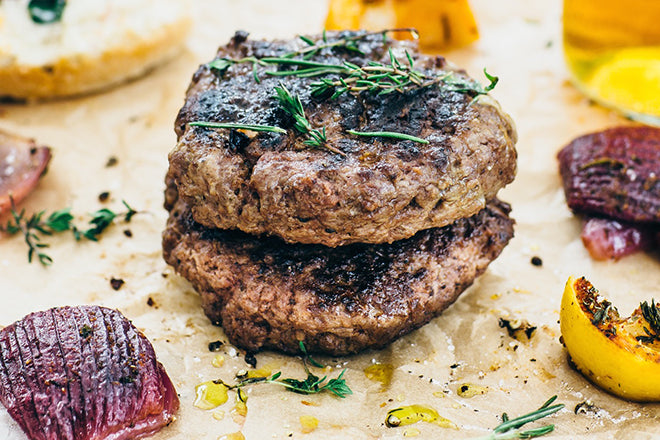 Brisket Beef Burgers - 170g/6oz
from £19.95
Product Info
An alternative to a traditional burger, our Brisket Burgers go down a storm with street food chefs over the summer, and now we are making them available to you.
Made from succulent British beef brisket, it produces an inviting bold flavorsome burger that will be the talk of the grill at your next BBQ.
Brisket Burgers are hugely popular in New York City where burger chefs insist the fat to meat ratio is optimum for burgers, they are now growing in popularity in the UK, so let us know what you think.
Cooking tips
For a juicy, medium cooked burger, you want to cook them for about 4-5 minutes each side (8-10 minutes in total), on a hot grill. It is best just turning them once otherwise you run the risk of ripping the burger surface before it has formed a tasty crust, but be carefull they don't stick to the grill.
Nutrition
British Beef Brisket ground and blended with seasoning and formed into a burger shape.
(Beef Brisket 92.5%),Water, Rusk (WHEAT), Salt, WHEAT Flour, Flavouring (CELERY), Potato Starch, Yeast Extract, Preservative (E221) (SULPHITE), Herb, Spice, Antioxidant (E300), Herb Extract, Spice Extracts.
Reviews
Butchers blog
News and recipes from the butchers.